White potatoes are the stars of summer! They are the ones that kick off the harvest season. They are THE new potato that we can't wait to eat—they are such a treat! At Patates Dolbec, we cultivate more than 5 varieties of white potatoes, including Chaleur, Sifra, Superior, Envol and Belmont. In baby, table stock or select formats, they are always delicious and refreshing! They are superb cooked in foil or boiled.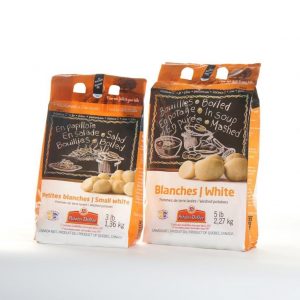 Availability: September to mid-March
Plastic: 3 lb., 5 lb., 10 lb.
Paper: 5 lb., 10 lb., 50 lb.
Box: 50 lb.
RECIPES WITH THIS TYPE OF POTATOES
https://patatesdolbec.com/wp-content/uploads/2015/07/blanches-tables-e1523027162479.jpg
632
1000
Morgan Robitaille
https://patatesdolbec.com/wp-content/uploads/2018/02/logo-300x149.png
Morgan Robitaille
2018-04-10 04:23:05
2018-04-11 03:23:42
table stock white
https://patatesdolbec.com/wp-content/uploads/2015/07/grelots-blanches.jpg
632
1000
Morgan Robitaille
https://patatesdolbec.com/wp-content/uploads/2018/02/logo-300x149.png
Morgan Robitaille
2018-04-10 04:18:58
2018-04-10 04:38:33
baby white
https://patatesdolbec.com/wp-content/uploads/2018/04/grelots-russet.jpg
632
1000
Morgan Robitaille
https://patatesdolbec.com/wp-content/uploads/2018/02/logo-300x149.png
Morgan Robitaille
2018-04-10 04:10:43
2018-04-10 04:40:52
baby russet
https://patatesdolbec.com/wp-content/uploads/2018/04/grelots-rouges.jpg
632
1000
Morgan Robitaille
https://patatesdolbec.com/wp-content/uploads/2018/02/logo-300x149.png
Morgan Robitaille
2018-04-10 03:58:44
2018-04-10 04:41:21
Baby Red
https://patatesdolbec.com/wp-content/uploads/2018/04/jaunes-table.jpg
632
1000
Morgan Robitaille
https://patatesdolbec.com/wp-content/uploads/2018/02/logo-300x149.png
Morgan Robitaille
2018-04-10 03:43:46
2018-04-10 04:42:41
Table stock yellow
https://patatesdolbec.com/wp-content/uploads/2018/04/grelots-jaunes.jpg
632
1000
Morgan Robitaille
https://patatesdolbec.com/wp-content/uploads/2018/02/logo-300x149.png
Morgan Robitaille
2018-04-10 03:29:48
2018-04-11 02:51:09
Baby yellow potatoes